Easy Blackberry, Lime Filled Angel Food Cake
Rita1652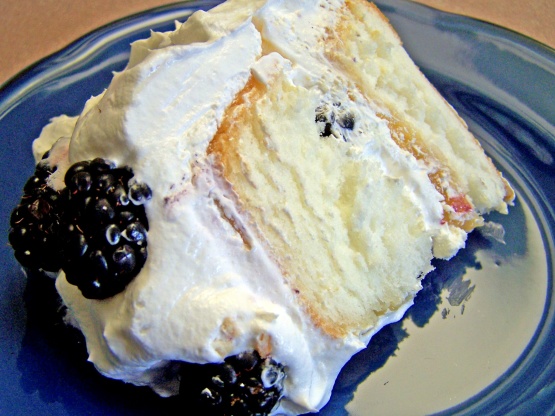 4 ingredients to make a quick impressive cake. You can make it all from scratch using my lemon curd recipe/angel food recipe. But the idea for this is quick and easy! And most of all yummy!

I made this cake tonight for my mom's birthday. She loves lime and blackberries and the combinations was wonderful. It was super easy to put together and took only 5-10 minutes. It was light and flavorful and reminded us of spring. Perfect for Easter. Could sub blackberries for any berry. I did use homemade lime curd and it was wonderful, but lemon would be just as good and easier to locate. Terrifc, easy, unique and tasty cake! Thank you!
Place one layer on a serving platter.
Spread lime curd on layer then spread a bit of whipped cream, place 1/3 of the berries on the whipped cream.
Top with the other layer.
Spread whipped cream over the cake and arrange berries on top.