dannhill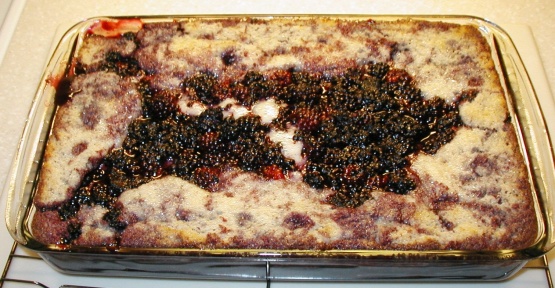 Picked fresh blackberries over the weekend. I made this last night (my first Blackberry Cobbler). I thought it would be too thin when baked so I baked it in a 7" X 12" Pyrex casserole dish, next time I will use a 9" X 13" as stated.
Great flavor and very easy to make. Next time I will reduce the sugar for the blackberries to 1/2 cup as I thought this was a bit sweet. I love sweet things, so for me to say it is too sweet is unheard of. Maybe because my blackberries were so fresh they are sweeter than store bought.
My husband enjoyed it but asked for more topping. The topping was great, it has a bit of crispy to it, not too much.
We will get 6 good size servings from the 7" X 12" so I think the 9" X 13" will make 8 servings. A very good cobbler.
Thank you Feingold Mom.
Preheat oven to 350 degrees.
Wash berries, mix with 1 cup sugar. Set aside.
In 9" x 13" baking pan, mix with fork: 1 cup sugar, flour, butter, milk, baking powder, salt and cinnamon.
Pour berries on top. Do NOT stir.
Bake for 45 minutes or until brown on top.