flower7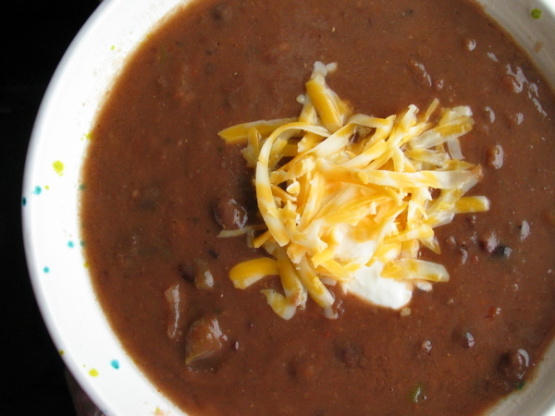 From Real Simple magazine, Fake it, Don't Make it section, Nov. 2003. Canned black beans, salsa, sour cream and canned chicken broth-and Lime and dry sherry are optional. OK to freeze since it reheats beautifully.

Very nice soup. I made this even easier by switching out one can of beans for refried black beans, so I could skip the blender step. Added sherry to today's serving and will try with lime instead with tomorrow's leftovers. Thanks for the recipe!
Heat salsa in a large saucepan over medium heat, stirring frequently, for about 5 minutes.
Stir in the beans and broth, then heat to boiling; reduce heat to low; cover and simmer 15 minutes.
Cool slightly, then spoon half the soup into a food processor or blender and puree.
Return the pureed soup to the saucepan and heat through. (I think this means with the other half that is not pureed so that it has some texture).
Serve with sour cream, additional salsa, and a squeeze of lime (if using). Or stir in 1-2 tablespoons dry sherry to each bowl.