Easy (Better Than Boiled) Corn on the Cob
BarbryT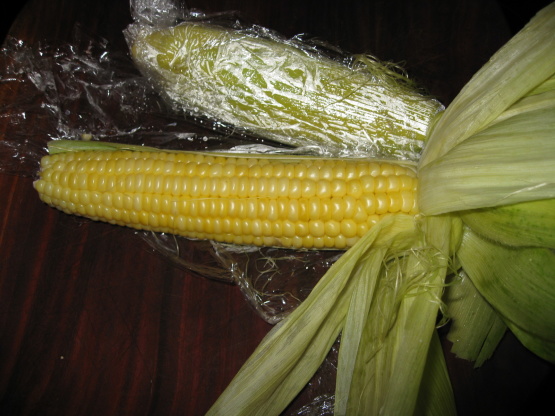 I got this cooking tip from Quick Cooking Magazine several years ago. It's nice for those that can't have a grill or when it is to cold to.

I have made this twice in two days. I didn't want to review it yesterday because the corn was thoroughly overcooked at 4 minutes. (And that was for two ears.) So...I insightfully determined that that wasn't the fault of the technique, but of the youth of the corn. So tonight I nuked the corn (again two ears) for two minutes (one minute per ear) and it is perfect ...and the silk comes off soooooo wonderfully easily. So I recommend to my fellow 'zaarites that you consider the time of the year and the probable maturity of the corn in deciding how long to microwave. Personally, I probably will use this technique forevermore. Thanks so much for posting it!
1

ear of corn (left in husks)
plastic wrap
Leave corn in the husks.
Wrap each ear in a piece of plastic wrap; as many as you need.
Microwave on high for 4 minutes per ear.
CAREFULLY unwrap corn and peel the husk off; the silk should just come right out.
Enjoy with butter and salt if you wish.