SimplyME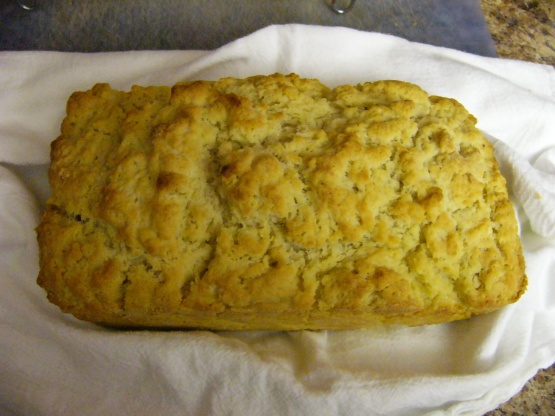 This recipe originated on an insert that came with a sample of specialty beers. We have made it with a number of different types and brands of beer, and it's turned out different and delicious each time.

This is wonderful! I sliced the leftover bread the next day and toasted it in the oven on 425 for a few minutes with a little parm cheese sprinkled on top. It crisped up nicely and was a great dunker for tomato soup! Next time I think I will add some shredded cheddar cheese and chives to the batter. Thanks for a great recipe!
Mix all ingredients except butter; the dough will be sticky so don't try to knead it.
Melt butter on the stovetop or in the microwave.
Pour dough into one large or two small loaf pans (greased and lightly floured) and top with melted butter.
The main idea is to leave enough room for the bread to rise substantially in the pan without the melted butter overflowing.
Bake at 375 degrees F for 50 to 55 minutes.