Redsie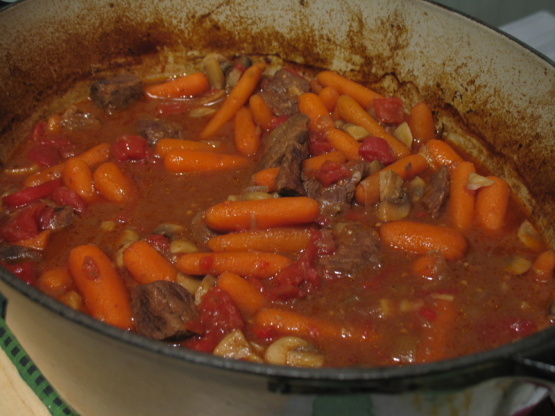 This is an easy and delicious recipe for beef ragout. It cooks slowly and smells (and tastes) wonderful! You can serve over white rice, mashed potatoes or some pasta.

EASY & DELICIOUS!!We loved this dish, and it was so simple to throw together and then just let it cook! I love carrots and mushrooms, and this was a great one dish casserole with all my favorites in it! DH had his with white rice, and wanted more later when he was watching late night TV. Thanks Redsie, this one is a keeper for us!
Sauté onion and garlic in margarine in large frying pan until onion is soft and golden. Turn into ungreased 3 quart casserole.
Add beef. Add tomato juice mixture, bay leaves and pepper. Stir. Cover. Bake in 325F oven for 1 1/2 hours.
Add next 6 ingredients. Stir. Cover. Bake for about 1 hour until beef is very tender. Remove and discard bay leaves.
Stir water into flour in small cup until smooth. Gradually stir into beef mixture. Cover. Bake for 15 minutes until bubbling and thickened.
Makes 10 cups.