Easy Beef or Vegetarian Enchiladas
loof751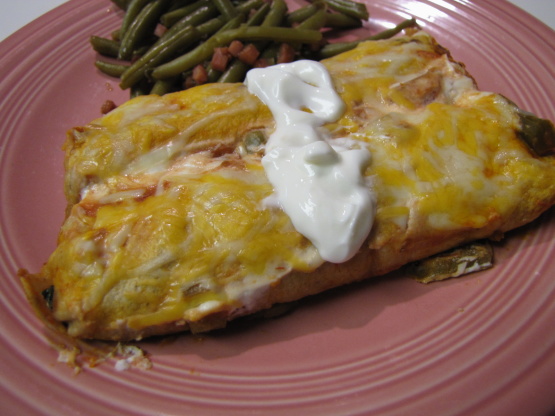 This is a great weeknight dinner. It takes just over 1/2 hour to get on the table and uses simple, easy to find ingredients. I found the recipe on Chatelaine Magazine's web site. It's also easy to cut the recipe in half.

Terrific tasty enchiladas! I went part way between meat and vegetarian; for 4 enchiladas (2 servings) I used 3 oz of ground turkey breast and the rest chopped mushrooms and spinach. I also left out the avocados to lighten it up a bit, and used lowfat whole wheat tortillas. Loved the cumin and spicy salsa, and just the right amount of cheese. Thanks for sharing the recipe!
Preheat oven to 500F and oil a 9x13" baking dish.
Place meat, cumin and salt in a large non-stick frying pan and cook over medium-high heat, stirring often and breaking up meat to keep it crumbly until no pink remains or veggie ground round is hot (about 5 min). - *Omit salt if using veggie ground round.*.
Stir in 1 cup salsa and cook until hot.
Stir in 1/2 of the cheese and half of the cilantro.
Place a tortilla on cutting board and place 3/4 cup of meat mixture down the centre, dot with 1 tbsp sour cream, and roll tightly.
Place in baking dish seam-side down with an open end touching the narrow side of the dish.
Place 3 rolls beside.
Fill the other half of the dish with the remaining rolls.
Spread tortillas with the remaining 1/2 cup of sour cream.
Top with remaining salsa and sprinkle with cheese.
Bake until cheese is golden (about 15 minute.
Sprinkle with remaining cilantro.
Serve with sliced avocados and sour cream.