Parsley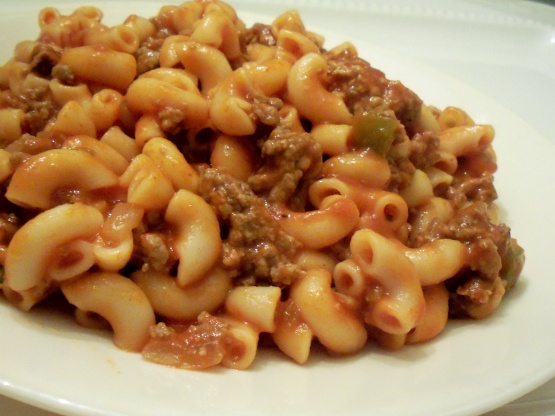 Quick 30 min meal and it tastes good. Note onion and bell pepper are optional.

My mom and I have been making this recipe for over 50 years. I think she found it on the campbells label years ago. We call it Hamburger Noodle Casserole. For some crazy reason my whole family loves this. Ground beef, tomato soup and elbows (we used creamettes).How much more simple can it get. I do use onions and green pepper also. It is a keeper.
1. Place chopped onions, bell peppers, and ground beef in large skillet that has been sprayed with Pam. Cook until ground beef is well done.
2. Cook elbow noodles in water for 9 minutes.
3. Add both cans of tomato soup to the cooked and drained ground beef. Simmer until the noodles are cooked.
4. Drain noodles and add to mix. Stir well.