Easy Beef Liver With Onion and Tomato
Derf2440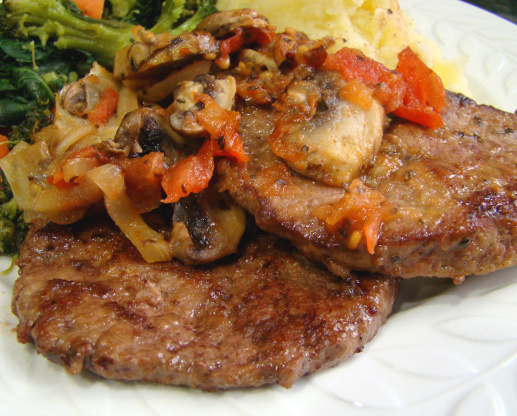 This is from a supermarket (Shop Rite) recipe card. I haven't seen tomato with this combo before and that sounded interesting. I like to use calf's liver.

A wonderful liver recipe! simple and very quick. We loved the combination of tomato, basil, (had to use dried), with the onion, had some mushrooms to use up so added them with the onion I used a combination of olive oil with a touch of butter. The timing of cooking the liver was perfect! Served with garlic mashed potato and steamed veggies. ( You might want to add the tomato in the ingredient list, I just used on large fresh and cubed it.) Delicious meal, thanks for posting I will use this recipe whenever I cook liver!
Melt 1 1/2 tablespoons butter in skillet over medium heat.
Add tomato, onion and basil. Season well and cook for 20 minutes, stirring occasionally.
Dredge liver in flour.
Melt remaining butter in frying pan over low heat and cook liver 3 minutes and turn over and season with salt and pepper and cook for another 2 minutes.
Serve with the tomato and onion mixture on top.