AmyMCGS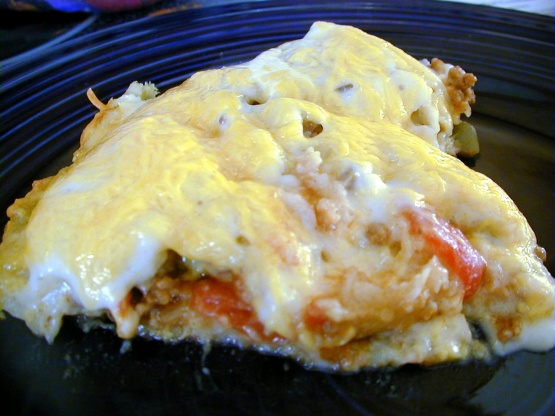 This is a sure hit for Mexican food lovers, potlucks and when you don't have time to make authentic enchiladas. I'm not sure where I got this, as the first time I made it was over 25 years ago. I believe it came from a ladies club cookbook they sold for money for charities. You can use hot peppers, mild or leave them out all together. The topping is so rich 'n creamy and you don't need to mix it. This is my family's favorite 1 dish meal. Very easy to prepare.

Delish! My family loved it! We used flour shells and diced tomatoes with chilis in them so it wouldn't be too much heat for the kiddos and it went over like mad! I would suggest letting this dish set in the oven turned over so you aren't scooping out mush...though it was yummy mush! :)
1

lb hamburger (I use 2 sometimes)

1

medium diced onion

1

(1 1/4 ounce) package taco seasoning

1

(10 -14 1/2 ounce) can diced tomatoes (use Rotel for heat)

1

(8 ounce) can tomato sauce (only if meat seems too dry)

1

(4 ounce) canchopped chilies (I use mild or optional)

1

(10 1/2 ounce) can cream of chicken soup

1

cup milk

2

cups shredded cheese, your favorite

12 -14

corn tortillas
cooking spray
Heat oven to 350º and spray a 9x13 pan.
Heat skillet and fry and crumble hamburger with onion.
Add 1 can of diced tomatoes (rotel if you want it hot) and canned peppers.
Add taco seasoning.
As this simmers, line pan with 6 of the corn tortillas,(if using 14 tortillas, fill in the holes with torn pieces of the 7th one) pour in hamburger mixture, drain off extra oil.
Place 6 more corn tortillas on top, using torn pieces of the last tortilla (if using 14) to fill in the holes. Spread 1 can of cream of chicken soup over top of tortillas.
Next, sprinkle the 2 cups of grated cheese over soup.
Pour 1 cup of milk evenly over cheese, no need to mix.
Cover with foil and bake 45 minutes.
If you want the topping more firm, remove foil and bake 5 minutes more.
Serve with warm buttered flour tortillas and a side of guacamole.