Easy Banana Peach Smoothie
Annacia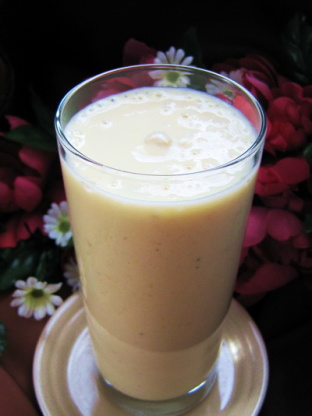 super simple, common ingredients, just throw it in the blender

Very YUMMY!!! I substituted vanilla unsweetened almond milk for the milk and omitted the orange juice. I had blueberry yogurt on hand instead of regular yogurt. It really worked out well. My peaches were frozen so I didn't have to use ice cubes. My seven year old loves it, too! ??The two servings are not big so if you like a lot of smoothie, you may want to double the ingredients.
Throw all ingredients in the blender and mix it up to desired thickness. Add ice cubes if you want it to be thicker.
If you don't have a peach, try peach nonfat yogurt in addition to the plain yogurt. Danon Light and Fit brand is great for those watching their figures. (Only 60 calories per serving!).
If using fresh fruit, it would probably be best if you added a few ice cubes for a quicker chilling process and a better consistency.