Easy Balsamic Chickpea, Brown Rice & Broccoli Salad
Simplify prep time by adding broccoli florets to the same pot as the rice during the last 3 min of cooking. Substitute the grilled pepper for 1/2 cup chopped, jarred roasted red pepper.
Directions
Pre heat grill to medium-high heat. Place pepper directly on grill. Cook, turing as needed for 15 minute or until charred. put in bowl cover. remove skin and seeds chop pepper into pieces
Toss rice, broccoli, chickpeas, chopped pepper and dressing. season with salt and pepper top with almonds.
Serve warm or cold.
Most Helpful
This recipe makes for a nice, fresh and yummy rice salad that is also very satisfying. I really enjoyed the broccoli, chickpeas and red pepper in this (I used a fresh unroasted one, though) and the balsamic vinaigrette. However I would have liked a little more seasoning in this, some garlic maybe and red pepper flakes. Just a little more oomph...
Ill make this again and experiment with different seasonings. THANK YOU SO MUCH for sharing this keeper with us, mcleod!
Made and reviewed for PAC Fall 2011.

This makes a nice healthful salad is great to pack for lunch. I used jarred roasted pepper and steamed some broccoli to add to cooked brown rice. I also will play with the seasonings, but will definitely make this again. Thanks for sharing!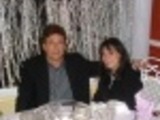 I made this using plain balsamic vinegar, fresh roeasted red pepper, and the sunflower seeds. It made a nice lunch with lots of nutrients! I would agree the Lalaloula that it needs a little more seasoning, but overall it's a great salad.