Easy Baked Veggie Pasta With Goat Cheese
daisi007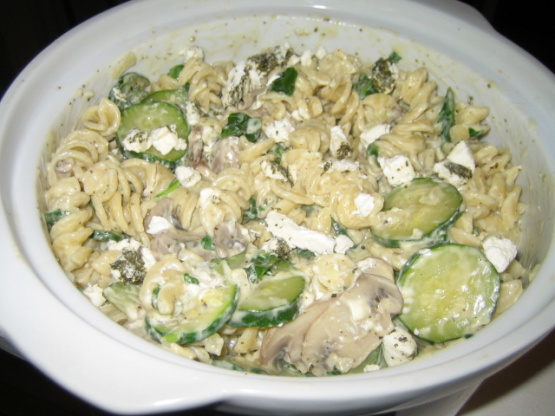 This recipe is my go to recipe for potlucks or a fast dinner, probably because I cheat with store bought sauces. It can be modified easily. Substitute whatever veggies you prefer and it tastes great with chicken if you're a meat eater!
While pasta is cooking, saute onions and garlic for 3o seconds, then add zucchini, mushrooms and cook till tender. Season with oregano, salt and pepper if you prefer.
Add spinach 1 minute before done.
Stir in sauces and simmer until pasta is ready.
Mix pasta, veggies and sauces and transfer to casserole dish.
Add liberal amounts of goat cheese to taste (the herb coated stuff is great).
Bake in oven at 350-400F for 30 minutes and serve.
Can be made the day ahead and heated at potluck.