Easy Baked Sweet and Sour Meatballs
wervwera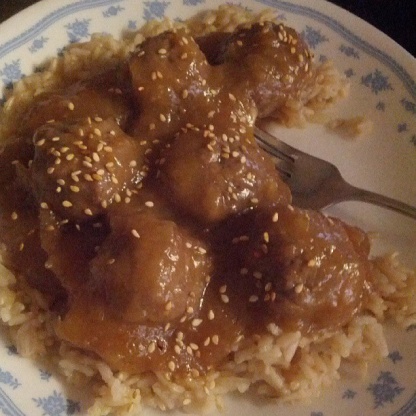 A super quick 'home-made' sweet and sour sauce with tasty meatballs that are baked in the oven. Serve with rice or over warm noodles as a main meal. Alternatively serve them as a party food with cocktail forks or toothpicks. It may seem there are a lot of ingredients, but the sauce and meatballs take very little time to prepare. A budget friendly family meal or a great recipe to make for a potluck. You can use Homemade Ponzu Sauce Homemade ponzu sauce posted by GailAnng as a good substitute for the 'ponzu lime citrus dressing and sauce.'

The elements of this recipe were nice and we had a very enjoyable meal. My biggest problem was the texture of the meatballs. They were almost too soft to form and sort of melted into a single meat patty in the oven. I did use ground turkey so maybe it had extra moisture. They were well seasoned though and tasted great. The sauce had a nice contrast with neither sweet nor sour being overpowering. It was pale in color and the amount of cornstarch thickened it instantly. Next time I will add chunks of onion and bell pepper when adding the pineapple and reduce the cornstarch. I also appreciated the garnishes at the end. I like pretty. Thank you for sharing the recipe and good luck!
For the sauce – mix the cornstarch with ¼ cup water in a small bowl. Set aside.
Add all of the remaining sauce ingredients to a small saucepan and stir over a medium heat for approximately one minute.
Add the cornstarch mixture and stir to combine.
Continue stirring until the mixture becomes thick and glossy- about 5 minutes. Set the sauce aside to cool.
For the meatballs – Preheat oven to 350°F (175°C ).
Use a food processor to make fresh breadcrumbs ( I used 4 slices of bread with crusts removed).
Add all meatball ingredients to a medium sized mixing bowl and thoroughly mix together.
Roll into small meatballs with your hands, using about a tablespoon of mix at a time.
Place meatballs in a 9 x 13 baking dish and, if using as a main meal, add the optional cup of pineapple chunks if desired - Just spread them evenly around the meatballs.
Pour the sweet and sour sauce over the meatballs , ensuring that they are all covered.
Bake for 30 minutes and stir. Continue to bake for another 15 minutes and stir again. Check for doneness and bake longer if needed.
Serve over rice or noodles for a main meal. Lightly sprinkle each meal with toasted sesame seeds or finely sliced green onions for presentation if desired.
Can be served as cocktail meatballs in a single large bowl with cocktail forks or toothpicks.