Easy Baked Summer Yellow Squash
MsSally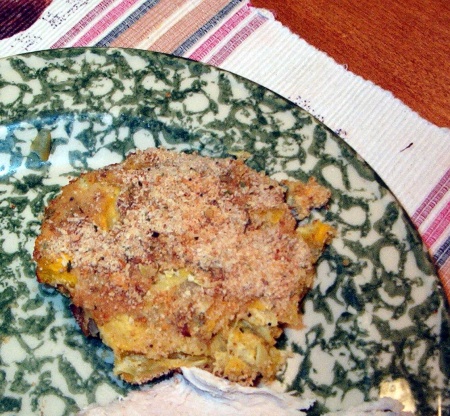 This is a delicious recipe to use up your crop of summer squash, even people who hate squash like this recipe! When I made this I added in about 2 teaspoons fresh minced garlic, but that is optional. You can cook the squash hours in advance.

Loved this! Added some cooked ground sausage before baking and sprinkled fresh shredded parmesan cheese to the top. It was delicious! Thank you for the recipe. Will be making again very soon!
Chop the squash into about 1-1/2-inch cubes.
Bake, steam or boil until tender; drain the squash very well if boiling then place into a bowl and mash.
Set oven to 375 degrees.
Butter a 2-quart casserole dish.
To the mashed squash add in 1/4 cup melted butter, onions, eggs, sugar, seasoned salt and black pepper to taste; mix to combine.
Transfer the mixture to prepared baking dish.
In a small bowl mix together the bread crumbs with Parmesan cheese and 1/4 cup melted butter until blended; sprinkle over the squash.
Bake for about 45 minutes.
Delicious!