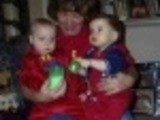 This is a variation on a recipe that Alan Alda showed on Martha Stewart Living. It tastes wonderful! And it leaves no mess! Very simple to make. You can use any medium size pasta (penne, elbow, shells etc...) that you have on hand. I have even made it with a mixture of 3 kinds of left over pasta.
Directions
Pour the pasta (uncooked) into a large casserole dish.
Pour the Olive Oil over the pasta, stir it up, and let it sit for about 20 minutes.
Pour the tomato sauce and diced tomatoes over the pasta; stir.
Add the seasonings and stir.
Cover and bake in a 400 degree oven for 40 minute.
Stir a couple of times while baking to avoid the top becoming crusty.
After cooking stir in the parmesan cheese and serve.
Reviews
Most Helpful
This is a great weeknight meal - so very fast and so tasty! Did add a bit more red chili pepper flakes and about 1/4 cup olive oil. Thanks Trisha! :)

I liked it just as it is written. I'm just a little worried about that much oil. I'll probably add a little less next time. The red chili flakes really boost the flavor. Plus it's super easy!

Great,but not quite as easy as it sound,but still is easier+delicious. I added 1/2c ital. Seasoning for serving 8;I al blended all the spices with the tomatoes(im