Easy Baked Italian Chicken
J-Lynn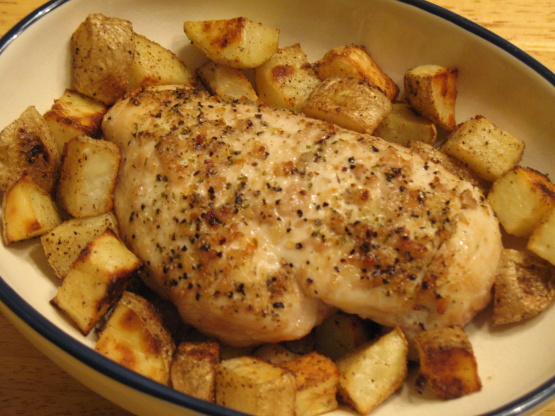 Easy and yummy! Dump it all in a pan and bake. Serve with potato bakers done in same oven for a wonderful meal.

Top Review by Lorac
Excellent! I made this recipe using 3 pounds of bone in chicken breasts and my favorite poultry seasoning recipe #69629. Pouring the vinegar mixture over the chicken washes off much of the seasoning, so after 15 minutes, I basted the chicken with the pan liquid. I repeated this after 30 minutes. The chicken wasn't browning so at 45 minutes, I increased the heat to 400°F and basted it once more. The chicken was moist and tender with an "I can't stop eating this" flavor. Next time I would add cut up potatoes to the baking pan to soak up the rest of the pan liquid. Thanks, marie - it's a keper!
Mix together oil, vinegar and garlic in a covered jar and shake well.
Arrange chicken in a shallow baking pan and sprinkle with salt, pepper and poultry seasoning.
Pour oil and vinegar mixture over chicken and bake at 350° for about an hour or until done.