katia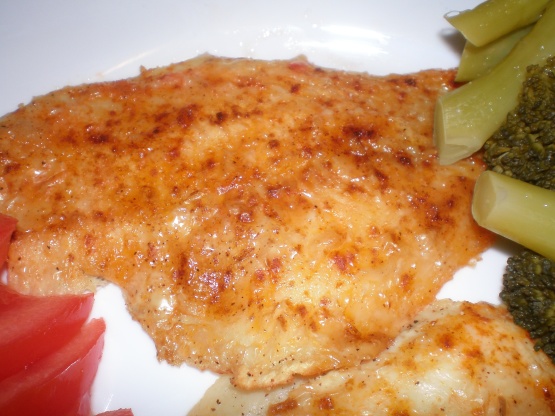 So easy and so good! I used halibut filets. The mayonnaise gave the fish a nice taste, and the paprika made it look pretty! We love this Bev! Thanks for such an easy and delicious recipe!! I will keep this one handy!
1

lb fish fillet, any type
salt and pepper
1⁄4 cup mayonnaise
Preheat oven to 325.
Line 8x10" dish with foil.
Place fish in pan, sprinkle with seasonings.
Use a pastry brush to sparingly coat tops and sides of fillets with mayonnaise.
top with generous sprinkling of paprika.
Bake uncovered for about 20 minutes, until fish flakes when touched with fork.
Serves 4.
Note: No need to turn while baking.
any amount may be prepared by adjusting size of pan.