loof751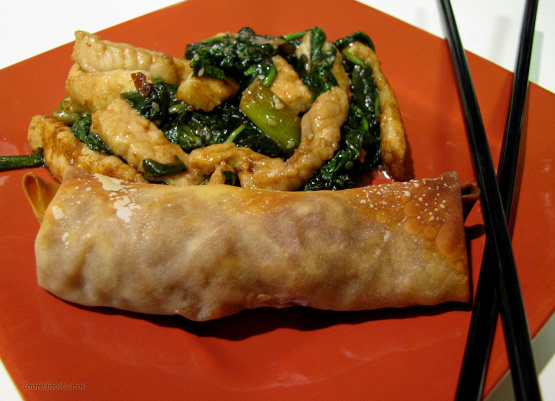 These tasty little treats are made easy with bagged coleslaw.

Very good and healthy eggrolls! I made mine with the veggies only and they were quick and easy to make. They had a nice texture; I may try sticking them under the broiler for a few seconds at the end of the cook time to get them even crispier. Thanks for sharing your recipe!
Preheat oven to 400°F.
Heat oil in a wok or large pan over medium-high heat. Add coleslaw, green onions, bean sprouts, wine, oyster sauce, soy sauce, and shrimp. Stir-fry for about 2 minutes, until cabbage is wilted. Mix cornstarch with 1 tablespoons cold water and add. Stir for about 1 minute, until sauce is thickened.
Spray a cookie sheet with cooking spray. Place 1/4 cup of the mixture on the middle of an eggroll wrapper, turned like a diamond.
Fold the bottom corner up, over the filling. Fold in the two sides, then roll upwards. Put a dab of water on the corner to help it stick. Place on the pan seam down.
Repeat until you run out of the mixture, about 20 rolls. Eggrolls can be close, but not touching. Spray the tops with cooking spray and bake for 15 minutes, until golden brown. Serve with sweet & sour sauce or spicy mustard.