This is a great recipe to bring to a potluck. I am always getting requests for it.
Directions
Preheat oven to 350°F.
Cook bacon until crisp; drain, reserving 2 tablespoons drippings. Crumble bacon; set aside.
Cook onion in drippings until tender; add bacon, beans, brown sugar, ketchup, Worcestershire sauce, and prepared mustard; mix well. Turn into a 1-1/2 quart oven proof casserole.
Bake uncovered for 1 1/2 to 1 3/4 hours, checking periodically. Add a little water if mixture becomes too dry.
Let stand a few minutes before serving.
Most Helpful
Thank you so mUch for sharing! Love this recipe! I dId however make a few changes. I only put half the amount of sugar it calls for and I used Heinz hot and spicy ketchup for a lil kick. Delicious!
SO, so addictive and delicious! Easy to make and they taste amazing. Love the addition of pork and even though I don't usually like mustard, it added a lovely flavour and wasn't overpowering at all. A new favourite!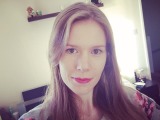 Fast and yummy. Next time I'll double the recipe. Thanks for sharing!