Prep 10 mins
Cook 40 mins
Not being a big fan of Barbecue, but Loving a man who LOVES it, i have to give in once in a while. Here's my take ( and I think Ry's favorite), on the classic. Made with Pre-made Barbecue Sauce ( I Prefer BullsEye) Its baked in the oven for convenience.
Directions
Preheat oven to 425.
Mix BBQ Sauce and A1 together.
Brush chicken with sauce mixture.
Bake for 40 Minutes, Repeatedly Basting with Sauce until its gone.
Reviews
Most Helpful
One word: YUM! Such a great, easy recipe. Could not stop eating this, lip-smackingly good!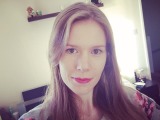 We really enjoyed this simple chicken. It really doesn't get easier than this. Thanks for sharing. Made for What's on the Menu tag.

Easy great chicken dinner. We quadrupled for our family dinner. Made for PAC Spring 2013.