Parsley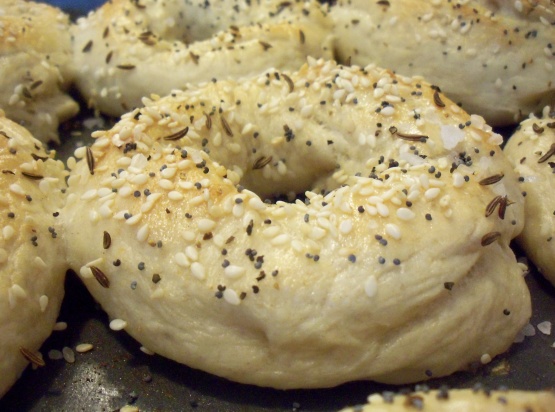 This recipe for bagels is soo easy to make and impressive:)

I made these tonight with my youngest daughter. She did 99% of the recipe all by herself, I was just there to guide her. We had so much fun together in the kitchen! Her favorite part was boiling the bagels...she found it hard to believe that you had to boil them first. We chose to leave them plain so that we could spread them with our natural peanut butter, fruit spreads or flavored cream cheeses. This recipe was so simple we will be making our own bagels from now on. Thanks for posting your recipe. Made and reviewed for Spring PAC 2011.
Preheat Oven to 450°.
Mix Yeast with warm water and sugar and stir. Set aside for 5 minutes.
Add 1 cup of flour at a time to the yeast mixture and salt and oil.
Mix together, when it starts to get stiff use your hands.
Put on floured counter and knead until smooth.
In the meantime, boil a large pot of water for 15 minutes.
Once dough is well kneaded, cut into twelve even pieces.
Roll pieces and form into bagel shapes.
Rest for 15 minutes on greased baking sheet covered with a towel.
Boil 4 at a time, 30 seconds per side.
While wet, sprinkle with salt/sesame seeds etc.
Put on a baking sheet and bake for about 10 minutes, or until the tops are golden brown.