eabeler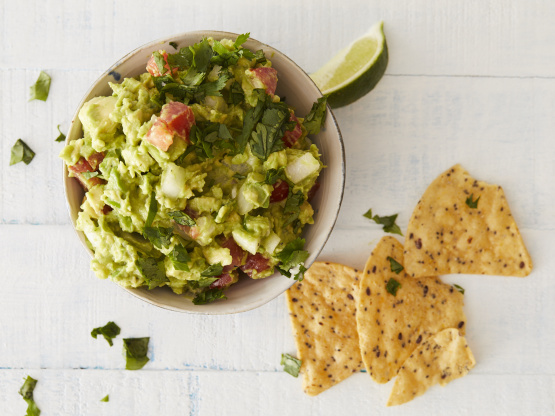 My mom learned how to make this from a local of Guadalajara Mexico. It is very simple to make and quite delicious! It's always a big hit when I have guests over. Great for a margherita party! Serve with tortilla chips (try Healthy Baked Corn Tortilla Chips (Homemade)). Out of necessity, I have omitted the tomatoes and it still tastes great. I have also added a few tbsps of fresh chopped cilantro when I have it on hand.

This is the same as my recipe, except I add 1/4 of a bunch of chopped fresh cilantro! Not sure if the cilantro is authentic, but good! 3 tips** 1) keep the pits, don't throw them away. after you make the guac, push the pits down in the guac, it will not trun brown (the top will turn a little if you don't put plastic wrap directly on top) **2) if a fresh jalapeno is too hot for you, try jalapenos from a jar. Slight heat, still great! **3) when you cut open the tomatoes, remove the seeds for a less watery product. And yes, NEVER buy guac ever again! ENJOY!
Wash and discard the peels and seeds of your avocados and put the remaining flesh in a medium sized bowl.
Add lime juice, salt and pepper and mash into the avocado with a fork or potato masher until smooth.
Dice tomatoes, onion and jalapeño and stir into avocado mixture. Add more salt to taste.
STORING: Put into serving dish and cover with plastic wrap so that the wrap is pressed directly on top of the guacamole (eliminating air exposure) and refrigerate until ready to serve.
OPTIONAL PREP TIPS: Dicing Tomatoes - Half tomatoes then squeeze each half gently and use your fingers to get rid of seeds and excess juice then dice. Dicing Jalapeños - Slice the jalapeño in half lengthwise and pull out seeds and membrane. Slice lengthwise into long thin strips, then bunch the strips together and cut crosswise into very finely diced pieces. (Be sure to wash your hands and don't touch your eyes, I learned the hard way!).