Bobtail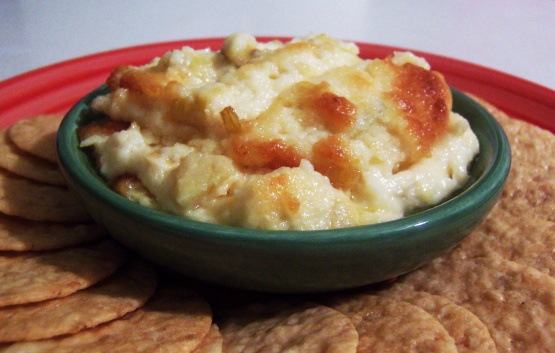 Only 3 ingredients (no spinach!) and so deliciously cheesy! Served hot with wheat thins or etc. Makes a pretty small bowl, 'cuz it is so rich, so you may need to double for parties.

Easy and quite good! I prepared this recipe as directed, except I chopped the artichoke and did not use a food processor. This is a very easy delicious recipe. Next time I would at least double the artichoke as the parmesan cheese was the predominant flavor. Prepared in participation with My 3 Chefs! Thanks LexingtonMom!
Drain artichokes. Grind in food processor until only small chunks remain.
Mix all together in an oven-proof dish.
Bake uncovered at 325 degrees for 20 minutes, until brown and bubbly.
Allow to cool for 5-10 minutes, because it comes out very hot!