Easy Applewood Burger Sliders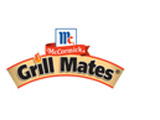 .
Make and share this Easy Applewood Burger Sliders recipe from Food.com.
1 lb lean ground beef
1⁄4 cup chopped onion
1 (7/8 ounce) package McCormick® Grill Mates® Smoky Applewood Steakhouse Burgers Seasoning Mix
6 slider rolls or 1 small dinner roll
1⁄3 cup barbecue sauce
Directions
MIX ground beef, onion and Seasoning Mix until well blended. Shape into 6 patties.
GRILL over medium heat 3 to 4 minutes per side or until burgers are cooked through (internal temperature of 160°F).
SERVE burgers on rolls with barbecue sauce and desired toppings.