Food.com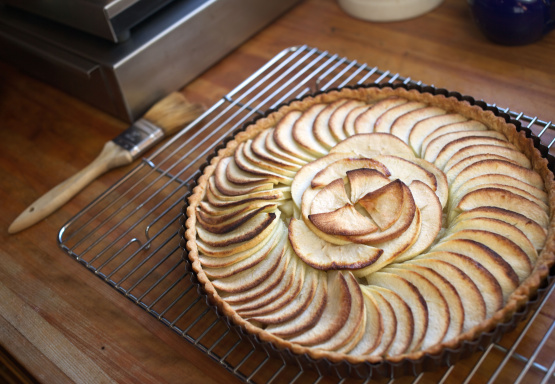 My husband was going to be an hour late for dinner and I had everything all set to serve. I decided to make a tart while waiting for him to get home. This is what I ended up with.

Amazing and easy.....thank you for that......but....too much salt in dough...WHY?....lessen salt turns perfect!
Preheat oven to 400 degrees.
Mix dry pie crust ingredients, then add oil and milk. Mix just until incorporated wet and dry. Don't over work dough, and press onto tart pan with removable bottom. Bring crust about 1/2 inch up the side of the pan.
Mix apple slices (use apple slicer/corer that cuts apple into 8 slices, then cut each slice into 3s), flour, cinnamon, salt, lemon juice, sugar and egg yolk.
Brush crust all over with egg white.
Place apple slices onto crust starting with the outside edge, slightly overlapping pieces into a ring, then put another circle of apple slices in the remaining inside circle.
Mix topping of turbinado sugar and cinnamon, sprinkle all over apple slices.
Bake 30 minutes, until crust is brown.
Serve with ice cream.