awalde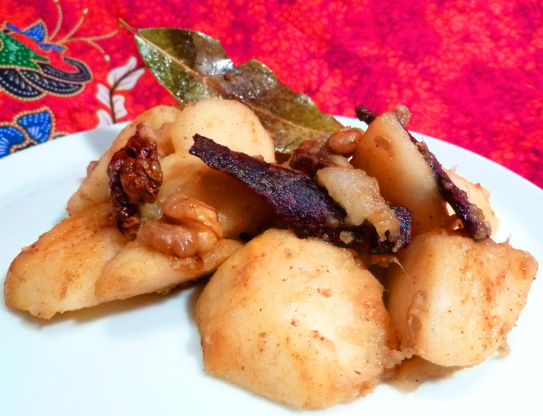 I was fasting for Ekadasi the other day ( a fast where Hindus stay away from grains and beans) and was really hungry and needed to make something in a jiffy. I had only eaten apply curry once before, but devised my own recipe on the spot with fabulous results. This is quick and easy!

Top Review by awalde
I'm glad I discovered this recipe and I'm sure I will use my apples many many times as sidedish!
The spices combination was perfect and I liked the chili touch very much. ¨
Please post more recipes!
Everybody liked it and was very welcome.
Done for PAC Spring 2011
Heat butter.
Add cinnamon, bay leaf and green chilli. Stir for few seconds, then toss in mango powder and chilli powder.
Stir again briefly, then add apples and tamarind.
Add a few tablespoons of water and close lid. Cook on medium-high heat for about 5 minutes.
Add salt and pecan nuts. Cook apples till all liquid is evaporated, they should be soft. Enjoy.
This dish would accompany any protein dish, like lentils or eaten with mashed potato for Ekadasi fasters.
Tip: Any other firm, slightly under ripe fruit can be used, like pears, pineapples and peaches. If your kids hate salad, its a gret way to serve them a 'cooked' salad.