Easy and Quick Cheese-Lover's Potato Bake
Parsley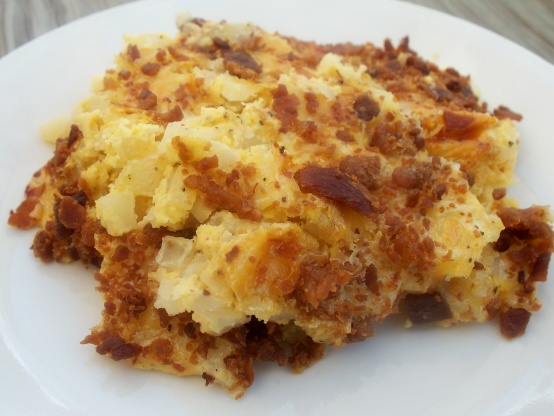 Using thawed hash bowns makes this an easy recipe that takes minutes to put together, but you may use cooked cold cubed potatoes in place of hash browns ;-) lower-fat sour cream and mayonnaise can be used.

Yes, this is definitely dry. I stirred in at least 2 cups of milk to moisten it up a little, and it was still "sticky" as my oldest daughter put it. However, she said she would give it more stars than me - she gave it 5 stars and said it was delicious. My youngest daughter said I should give it 5 stars also and called it terrific. I only used about 1/3 of the bacon bits and mixed them all in before baking. I cooked the onion a little bit before adding it to the mixture also - I always do to avoid crunchies.
Set oven to 350 degrees.
grease a 13 x 9-inch baking dish.
Place the Velveeta cheese into a microwave-safe bowl.
Microwave until the cheese has melted, then add in sour cream, mayonnaise, thawed hash browns, yellow onion and green onions; mix until well combined.
Season with black pepper and salt.
Transfer to prepared baking dish.
Sprinkle with bacon bits.
Bake for about 45-50 minutes or until hot and bubbly.