Easy and Quick Cauliflower Apple Salad
Parsley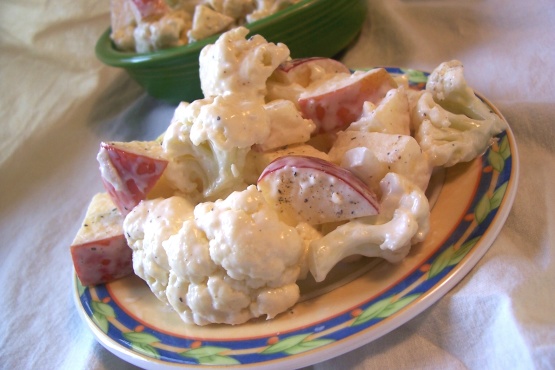 I tried this salad at a luncheon and was amazed when the woman who made it told me that there were only 4 ingredients. The taste and texture of the cauliflower and apple really complement each other, and you can't beat the dressing for simplicity.

This recipe is quick and easy -- and the apples and cauliflower make a compliment each other nicely. Just for added texture, I chopped up some toasted pecans that I had on hand and threw them in. However, the dressing itself was very bland. (I did use low-fat mayo to keep in tune w/ my diet). I should have tried adding in a dash of rice vinegar and sea salt to keep it sweet but spice it up some. I love the concept of the salad though ... sho knew that apples and cauliflower made such a pleasant combo?
Break or cut cauliflower into small pieces. Chop unpeeled apple in pieces about the same size as the cauliflower.
Mix all ingredients together.
Chill if desired, then serve.