Easy and Quick Beef Teriyaki
Bev I Am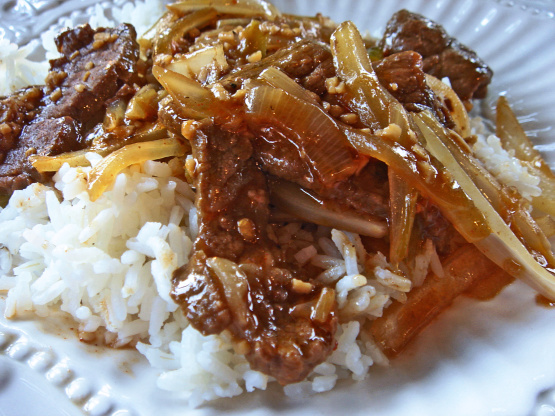 A wonderful Asian dish thats easy to make, and on your table in around 10 minutes. Serve with hot white rice. To save time you can slice the beef a day ahead or purchase the already sliced stir-fry beef at your grocery store. All amounts can be adjusted to taste.
In a wok or stir-fry pan, heat oil on high.
Stir in garlic and dried red pepper flakes (cook for about 10 seconds).
Add in the beef strips; cook for about 1 minute.
Add in oyster sauce, soy sauce, salt, pepper, sugar and paprika; cook and stir for 1 minute.
Add in the stock; boil for 5 minutes over medium-low heat.
Add green onion and onion; stir-fry for 1 minute.
Add in dissolved flour, mixed with 3 tbsp water into the mixture; stir until blended and thickened.
Serve on cooked rice.