Easy and Delicious Meringue Cookies
um-um-good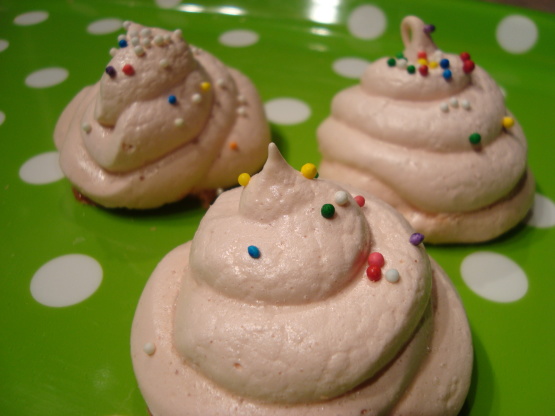 A sweet and satisfying snack or dessert,and low caloire too! My step mom brought them to a family dinner, they were a hit!

Had originally planned to make pavlova but realized I was out of whipping cream! These cookies turned out beautifully, even on a slightly humid day. I added 1/2 tsp orange xtract, 1/2 tsp vanilla and about a cup of mini chocolate chips. I used a small cookie scoop which worked very well. Delicious!
Preheat oven to 225f.
Beat egg whites in a metal bowl with a hand-held beater or a mixmaster untill foamy. Add vanilla and cream of tartar.
Continue to beat, and add sugar one tsp at a time.
Beat untill it forms stiff peaks.
Put meringue into a thin square bag, and cut a SMALL hole in a bottom corner of the bag, so the meringue will come out in a string about the size of a thick pencil.
On a cookie sheet lined with pachment paper squeeze from outside in, making a spiral, then make a peak in the middle. The meringue should be about 1 inch in diameter. You will probably need a second cookie sheet.
bake for one hour, or untill tops are golden brown.