Bergy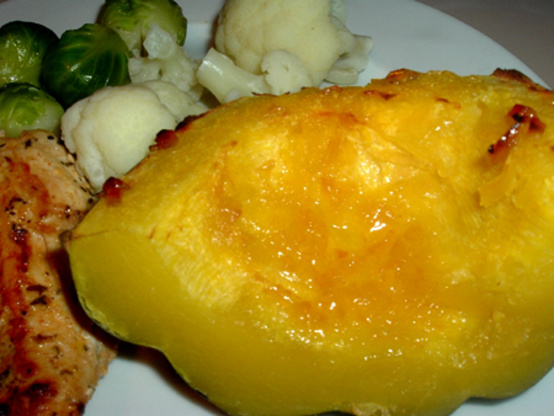 Baking winter squash cut side down in a small amount of water really makes it tender, and eliminates tough spots. This recipe came from a sticker on a squash I bought several years ago.
Preheat oven to 400 degrees Fahrenheit.
Cut squash in half and remove all seeds and strings. (Scrape the inside of the squash with the edge of a spoon).
Place squash halves upside down in a shallow pan. Pour water in pan to a depth of 1/4 inch (may use more or less water depending upon size of pan used).
Bake for 35 minutes. If any water remains, drain it off.
Turn squash over. Sprinkle cut side of squash lightly with salt if desired. Mix together the marmalade and melted butter and spoon over cut side of squash pieces.
Place under broiler for 5 minutes or until lightly browned.