Easy 5 Step Chicken, Pork, Beef or Lamb Vindaloo
IngridH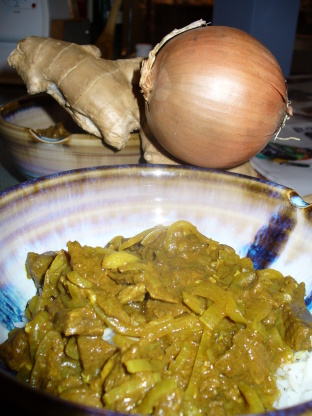 Extremely delicious recipe and so easy to prepare. Has become a family favourite in our home!! Please note the amount of chilli can be adjusted depending on how hot you want it! This is just right for our palates.

This was very good, and really easy to make. I made a half recipe, but based on the other reviews, I doubled the liquid, and it came out beautifully. I also cooked it in a small cast iron dutch oven (instead of a skillet), which may have helped with the liquid not evaporating so fast. We enjoyed this over steamed rice, and since it was a bit on the spicy side, I topped my serving with a bit of sour cream (yogurt would have been better, but I didn't have any). Thanks for a lovely recipe, which I will definitely make again!
Combine all ingredients except oil, onion and meat. Leave standing while you cook the onions.
Heat oil in medium to large pot and add onions. Stir until onions are soft.
Add vindaloo mix to pot and cook for 1 to 2 minutes.
Add meat and mix so that it is covered with the vindaloo mix. Add 1/2 C water.
Simmer, covered, over low heat for about 1 1/4 hours or until meat is tender.