Easy 5-Minute Boston Brown Bread (Healthy/Low-Fat)
letarr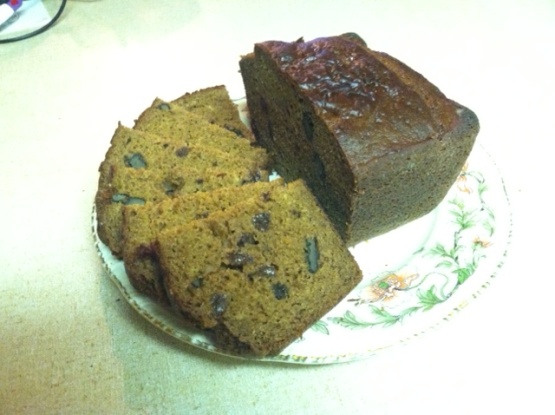 if you are a fan of the canned version you will love this! --- not only is this low fat, egg-free and very low in cholesterol it takes only 5 minutes to mix although there is another 5 minutes sitting time, you may use 2 cups whole wheat flour and 1 cup all-purpose flour either way works well--- for greasing the pan see my Pan Release, Professional Pan Coating (Better Than Pam Spray!) Looks good, but...at 253 calories per serving with 102% of the daily value of sugar, I'm not sure I would classify this recipe as "healthy". Low fat does not mean low calorie if you use a lot of sugar. In fact, this is generating studies because it used to be accepted that fat was the villain in heart disease. Now researchers are looking at the cause of obesity, which increases the risk for heart disease and other illnesses. They are studying the possibility that so much added sugar in our diets is to blame.
Set oven to 350 degrees F.
Grease and flour a 9 x 5-inch loaf pan (can use two smaller loaf pans).
In a large bowl whisk the whole wheat flour with white flour, baking soda and brown sugar.
Using a wooden spoon or spatula mix in molasses and buttermilk until JUST combined (do not over mix).
Gently mix in raisins or chopped dates.
Spread in prepared loaf pan then allow the pan to sit on the counter for 5 minutes.
Bake for 50-60 minutes or until the loaf tests done (reduce cooking time if using smaller loaf pans).
Cool on a wire rack for 5 minutes then remove to a wire rack to cool completely.