Ang11002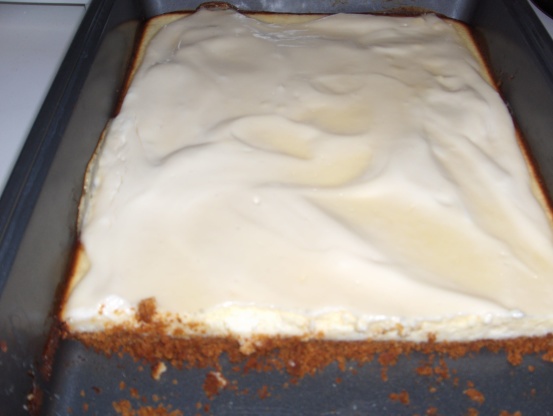 I called this recipe "Easter Sunday Cheesecake" because that is when I first served it when a bunch of friends got together for Easter dinner after church. A delicious cheesecake recipe that is a bit different in that it's made in a 9x13 pan as opposed to the usual springform pan. For a little extra, I add a dash of cinnamon to the crust mixture....YUM! (Cook time includes time for cheesecake to cool overnight)

Top Review by bratty
This is one of those recipes that I really wish I could give more than 5 stars. This cheesecake is simply wonderful. I served it at a family Christmas, and it was a total hit. It is rich, creamy, and tastes absolutely wonderful. Fairly easy to make as well. I chose to just use two cans of cherry pie filling for my topping. This is definately a dessert that I will keep in mind for parties at work, family gatherings, and a summer bbq! In a word: Excellant!
Make CRUST: Mix together melted margarine, sugar, and graham cracker crumbs in 9x13 pan with fork to cover bottom evenly.
Press down to form crust.
Bake at 350 for 8 minutes.
While crust is baking, make FILLING: Beat cream cheese, eggs, sugar, vanilla, and lemon juice on high until whipped.
Pour over crust.
Bake at 350 for 30 minutes.
Cool completely.
Make TOPPING: Mix sour cream, sugar, and vanilla well.
Pour on top of cheesecake.
Bake at 400 for 5 minutes.
Cool 6-8 hours or overnight.
Make SAUCE: Add enough water to reserved berry juice to make 3/4 cup of juice.
Combine sugar and cornstarch in a 2-cup measuring cup; mix well.
Stir in juice and lemon juice.
Microwave on HIGH for 3-5 minutes, until thick.
Stir occasionally.
Stir in fruit; cool completely.
Pour over cheesecake and serve.
(For a shortcut, you may also use canned pie fruit filling instead of the sauce).