Lorac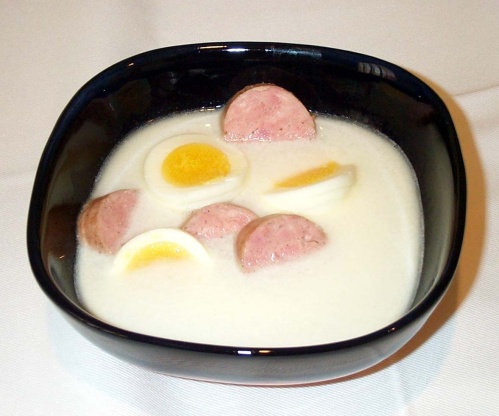 Part of our Polish Easter tradition. The slightly sour soup broth is made from the kielbasa cooking water and is served with sliced sausage and the hard boiled Easter eggs. The original version uses kvass made by soaking oatmeal and rye bread in water, instead of the vinegar. We pass around horseradish, rye bread, kielbasa and eggs and everyone adds what they want to their dish of broth. You will either love it or hate it. Prep time does not include refrigeration.

I have gone back to your recipe as a guide every year for the past three years. This has been a family tradition since before I was born and I am actually one of the people that hate it, my many family memebers love it. I know what's its supposed to taste like and I had made it in the past with my Grandmother and once she and her sister passed away with my Godmother. When she passed away three years ago and I coudn't remember the recipe exactly (because in my family nothing is written down) and searched the web, your was the closest to what I remembered. I changed a few things to match better to how my family made it (sour cream instead of cream and alot more horseradishand vinegar). Thanks for the base recipe so our family tradition could continue. Sometimes cooking the things you don't love is more important than cooking the things you do love because the people you love love the things you cook.
Add kielbasa and water to a large pan, bring water to a boil, reduce heat and simmer 40 minutes.
Remove the sausage and refrigerate both sausage and cooking liquid overnight.
Next day, remove the fat from the liquid, add the vinegar and hoseradish.
Mix the flour and cream and add to the pan.
Season with salt and pepper and bring to a boil.
Reduce heat and simmer 10 minutes.
Allow kielbasa to return to room temperature or rewarm and slice it.
Serve hot broth with sliced kielbasa and eggs.