Easter Nests With Jelly Bean Eggs
GaylaJ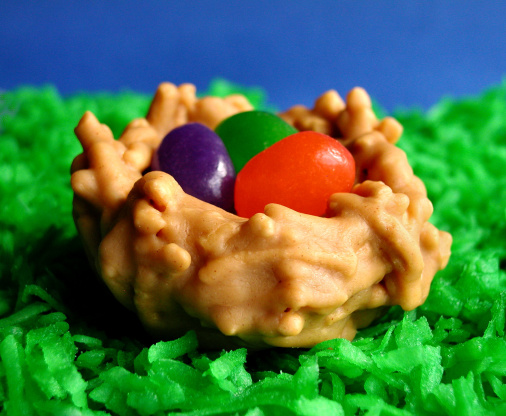 Originally from a peanut butter company, these no-bake treats are easy and oh-so-fun for the kiddos! :o)

I did as another reader suggested and subbed butterscotch chips for the sugar and corn syrup. I used a large bag of chow mein noodles which was 8 cups. I used an entire bag of butterscotch chips and melted them with the peanut butter! These are so cute and absolutely taste wonderful! One of these does go a long way! Thank you for an new Easter tradition winkki!
Break chow mein noodles into small pieces; set aside in large mixing bowl.
Combine sugar and corn syrup in large saucepan.
Cook on medium heat until the sugar is melted and there are bubbles at the edge of the pan.
Add peanut butter and stir until smooth.
Pour peanut butter mixture over crunched up noodles; toss until completely coated.
Let cool slightly to avoid burns.
Butter hands lightly and use approx 1/4 cup mixture to form a compact ball.
Make indention in the middle of each ball to resemble a bird's nest.
Place on waxed paper and let cool completely.
Place 2-3 jelly beans inside each nest.
Serve on a bed of green-tinted coconut for extra festive look.