Jane Gib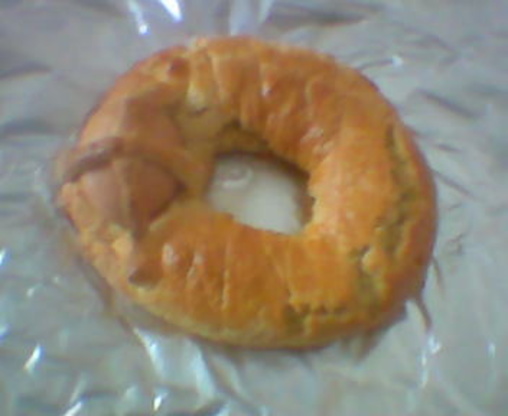 Instead of buying easter eggs, I normally bake this and give it to my family and friends' children it is a traditional easter cake, baked here in Gibraltar.

Jane, we liked it we didn't like it, we liked it... it seems there is something missing here... instructions included. It's nice enough but we feel that it could have somehow been better, and we weren't sure if I made it as it was indended to be anyway. I cut this down to two portions (since I have two kids) but halfway though we got extra kids over to play so I quickly abandoned the idea of letting them all in the kitchen to decorate the eggs, too many kids not nearly enough eggs or space. There was still a LOT of dough... even for the two serves and if I understood the instructions correctly I should have divided and rolled ALL of it into long ropes and made cirles of it on the tray, but then it says "cut 2 strips of pastry" in step 6... but doesn't mention where that pasrty is to come from. Confused? I sure was... I ended up diving the pastry in half and made half into the long ropes and half into the X around the egg... and I can only hope that my interpretation is even remotely connected to how this is supposed to look like !LOL. Also the instruction "place a boiled egg at *both* ends where the dough meets... um , I had 2 long ropes, each in a circle and 2 boiled eggs, did I need 4 boiled eggs to have one at each end of each rope circle??? I did find the dough very crumbly and dry and the end baked result was rather dry as well. DH didn't like it, I nibbbled a bit, nibbled a bit more and ate rather a lot:) Ã?t grows on you for sure. The custard and anise and coconut do give this a really different taste, and I'm not the world's biggest coconut fan, so if I liked it then that's saying something :) Please see my rating system: a lovely 3 stars for a recipe that I enjoyed trying but where I found the directions a little perplexing and the end result not suiting all of us in the family for me to make it agin. You never know until you have a go ! Thanks :)
rub butter and flour together, add sugar and aniseed, stir in beaten eggs,.
add the custard powder and the coconut.
knead and divide into 6.
form into 6 long ropes and.
place each on a tray, forming a circle, like a ring, and place a boiled egg at each end, where the dough meets. if you have kids, they can each decorate the eggs or paint them with food colouring.
cut 2 strips of the pastry, and place on the egg like an X.
bake in the oven (200c) for 45 minutes.