Bergy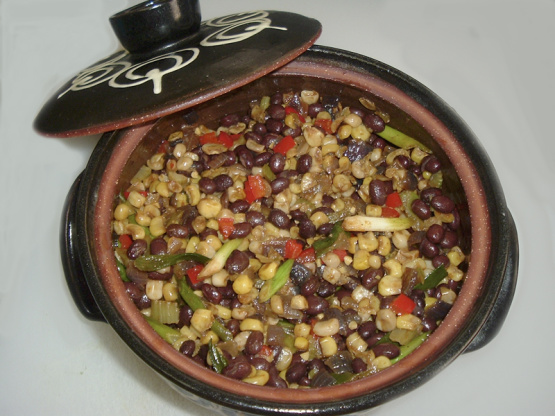 Awesome side dish or wrapped in a pita for a vegetarian meal.

Always looking for an excuse to use hoisin sauce in a vegetarian recipe. This was quite good as the hoisin mixed well with the beans. I cut back on the butter and oil and used a non-stick frying pan. My favorite brand of hoisin sauce is Lee Kum Kee brand, I've found that it's the best by far. Wrapped the leftovers in a small flour tortilla (good substitute for pancakes served at chinese restaurants, if you can't find any at the store) and had for lunch the next day. Thanks for a terrific recipe!
In a large skillet cook and stir onion wedges in hot butter and olive oil over medium heat about 4 mins.
or until tender but not brown.
Stir in green onions, hoisin sauce, and paprika.
Add corn, beans, celery and red sweet pepper.
Cook and stir until heated through.
Transfer to a serving bowl.