East Side Mario's Hell's Kitchen Chicken (Pollo Italian)
Pneuma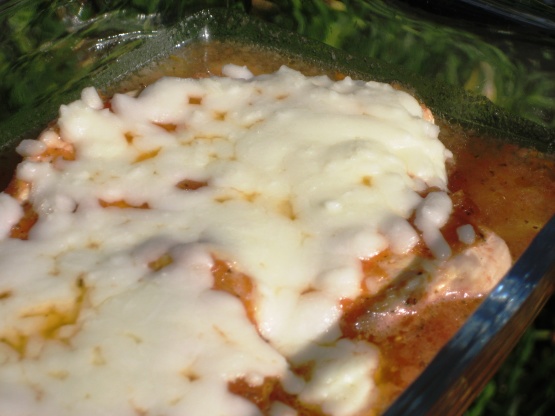 I have never tried a dish at East Side Mario's that I did not enjoy. Found this one out surfing the net and tried it. It was a nice alternative to a traditional Chicken Parmesan, and the sauce would also taste lovely over grilled chicken. *If you would like to spice this up a bit, add the optional crushed red pepper. *(Spicey option added based on Sam#3's review July 2008)

Top Review by JGB18
Overall, a strightforward recipe that was well-liked. The recipe did not specify which type of canned tomatoes, so I went with canned whole plumb tomatoes. It probably doesn't matter that much sice the sauce will be pureed anyway. I agree with the other reviewers who said that the sauce was a little too thin. I used 1/4 tsp of red pepper, which provided a nice level of spice. I could not have gone any hotter with the kids. I can see how some adults would like to go slightly more spicy.
Pour tomatoes into blender or food processor.
Add basil, tarragon, salt, pepper and crushed red pepper.
Puree until smooth.
Melt margarine in large frypan.
Saute garlic over medium heat 1 minute.
Add chicken breasts, saute, turning once or twice until golden on both sides.
Turn chicken fleshy side down and cover with tomato mixture.
Bring to a boil, reduce heat and simmer 15 minutes until tender.
Remove chicken and place fleshy side up, in a warm oven proof dish.
Stir parsley into sauce and spoon over chicken breasts.
Sprinkle with Mozzarella.
Place under heated broiler 1 minute just until cheese melts.