East Indian-Inspired Potatoes With Mint
JustJanS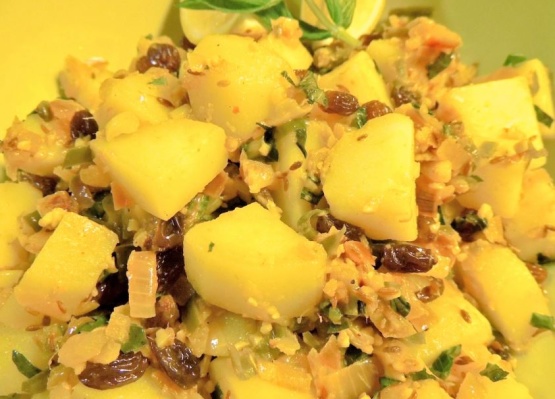 From jacobsfarm.com. There weren't enough russet potatoes on hand in our pantry and I went ahead and substituted a few Yukon Golds. The turmeric was my addition. I'm confident that with a few simple modifications, this salad could be served cold in summertime. Will test!

This was great thanks Cookgirl. It looks like it has a heap of ingredients, but it comes together really quickly and is ever so simple to make. I used two chilies and left the seeds in as we like it hot. I made this and let it cool to room temperature to serve-it was fantastic as a salad. The golden raisins were a nice touch with the spice, heat, herbs and lemon.
Soak raisins in 1 cup very hot water for 10 minutes until plump. Drain and set aside.
Cook the potatoes in a large pot of salted boiling water for 10-12 minutes or *just* until fork tender. Do not overcook.
Drain potatoes and set aside.
Heat olive oil or ghee over medium heat in large saute pan.
Add the red onions, drained raisins, chili peppers, ginger, turmeric, garlic, cumin seeds and fennel seeds. Cook for 10 minutes, stirring occasionally.
Stir in the potatoes and most of the spearmint (saving the remaining spearmint for garnish.) Stir to coat the potatoes.
Toss with lemon juice; season with salt and pepper.
Transfer to a serving bowl or platter and garnish with lemon wedges and fresh cilantro.