East Indian Farina Hot Cereal (Payasam)
loof751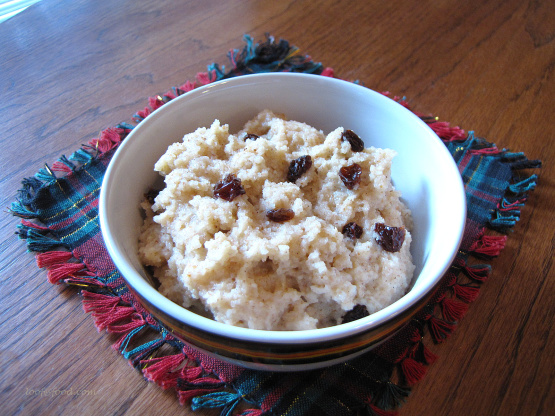 Adapted from Laurel's Kitchen vegetarian cookbook-the first vegetarian cookbook I ever bought. The original recipes uses brown rice cereal, which is equally good! I've made this many, many times for breakfast. My payasam I prefer on the thick side, so feel free to add more milk or less cereal. Comforting and delicious on a cold winter day.

This is wonderful!! I never thought to use cardamom in my farina, but it worked really well. I also used 1 can coconut milk and added water to bring it to the 3 cups needed for the liquids (made 3-6 servings[love that feature]). It's very creamy that way, just the way we love it. Very simple recipe with loads of flavor. Thanks!
1

cup whole milk or 1 cup rice milk
1⁄3 cup farina (farina is also known as Cream of Wheat) or 1⁄3 cup brown rice meal (farina is also known as Cream of Wheat)
1⁄4 teaspoon salt
1 1⁄2 tablespoons butter (NOT margarine)
1⁄4 teaspoon ground cardamom, to taste
1⁄2 tablespoon unbleached cane sugar, to taste

2

tablespoons raw pistachios, pieces chopped or 2 tablespoons raw almonds, chopped

2

tablespoons raisins
In saucepan bring milk to almost boil and stir in the cereal using a fork to break up the clumps. Stir in the salt.
Reduce heat, cover and simmer for 5 minutes for farina, 10 minutes for rice meal.
In a small saute pan, melt the butter on medium heat and add the cardamon, cane sugar and raw nuts. Toast for about 2 minutes, being careful not to burn.
Add the raisins to the butter mixture and heat through.
Once the hot cereal is cooked, stir the cardamom/nut mixture into the cereal.
Serve piping hot. Mmmm!