nitko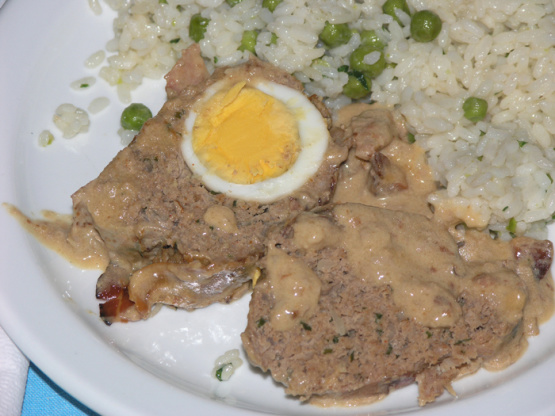 This recipe is from village Nijemci in Slavonia (eastern Croatia). Nijemci literally means Germans; I have collected this recipe during annual minority fair in Zagreb where minorities present their culture. German minority was pretty large in eastern Croatia, but after 2WW Bolsheviks wiped them out (mostly kill them in concentration camps). Village Nijemci remind us of that minority (today we have about 2000-3000 Germans (volksdeutsch) living in Croatia) and they mostly live in east Croatia. The recipe is time consuming but very nice Sunday family gathering meal.

fantastic meal it came out beautifully. The taste was sensational
First hard boil two eggs, and when done remove from shells; put aside.
Finely mince onion and garlic. Mix together both meats, onion, garlic, breadcrumbs, two fresh eggs, water, salt, pepper, paprika, mustard and parsley. Mix all ingredients with hand to make nice meat mixture.
Put mixture onto aluminum foil and spread to about 20x20cm flat surface. Put two hard boiled eggs in the middle and roll it into a loaf. Let it stay in foil for some time to form a loaf.
Cut some bacon into thin slices to cover first bottom of casserole pot (you will put meat loaf on this bacon) and some to cover the loaf. The rest of bacon cut into small cubes.
Lay loaf on bacon slices (remove aluminum foil) making sure the loaf stays together. Cover loaf with bacon slices and put into 200°C oven for 50 minutes. Spread bacon cubes around meat loaf (it will be enough fat from this bacon, so you do not have to add oil).
During baking, add some beef stock (pour over the roast). When the loaf is done remove it carefully from casserole and deglaze the pot with some beef stock, add some flour and sour cream, stir well. Pour the sauce over meat loaf and serve.