Easiest Stay Soft Chocolate Chip Cookies That Ship Well
KennKonn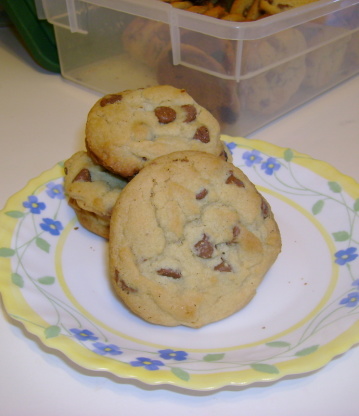 These are so easy and soft and fluffy. I was searching for the perfect recipe that stayed soft and fluffy. I never liked the Tollhouse recipe. They were never fluffy enough. I often make them without chocolate chips and roll them in sprinkles for myself. These travel so well and stay soft until the last cookie is gone. I hope you enjoy them as much as we have.

Perfectly soft and soooo delicious!!! The only thing that could make it better is if you told me there weren't any calories!!! Thank you so much!!!! I'll be keeping this one!!!
Cream together shortening, butter, sugar, brown sugar, eggs and vanilla.
Stir in remaining ingredients.
Drop by teaspoon full onto ungreased cookie sheet.
Bake at 375 degrees F for 8-10 minutes or until cookie is lightly brown on top and darker brown on edges.
They almost look like they are buring on the bottom when done but, trust me, they are not. This recipe hasn't yeilded a crunchy cookie yet even when I have burned them.