Easiest Ever Homemade Coffee Ice Cream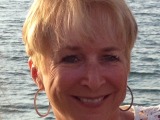 This is so good and so easy...takes you back to summer days of your childhood. From Maxwell House Coffee Drinks & Desserts Cookbook. Note: preparation time does not include 2 hours' freezing time after placing in ice cream maker.
Directions
Stir the coffee, cream and condensed milk in a large bowl until well blended. Refrigerate for about 1 hour to chill. Freeze the mixture in an ice cream maker according to the manufacturer's directions. Spoon ice cream ito a 1 quart freezer container and cover. Freeze for about 2 hours o4 until firm before serving.
Vations: Stir in 1 cup of any of the following as the ice cream begins to freeze in the ice cream maker: coarsely chopped, chocolate-covered coffee beans; coarsely chopped, chocolate-covered toffee bars; or coarsely chopped biscotti.
Most Helpful
Just made it tonight! Very easy to make. Glad we used Kona coffee since we are very big coffee drinkers and the stronger the better.

We made no alterations to the recipe at all. We used three tablespoons of ground Kona to make the one cup of coffee. Then we made more coffee to enjoy while we were waiting for the mixture to chill as not to waste large amount of grounds. If we had not had Kona or another very strong blend I think I would have used Espresso.

Excited to try this again with some other coffee- like my favorite Honeybell Coffee...sounds perfect for summer! Thanks for this easy recipe!
Wow! Amazing! This recipe was soooo easy and absolutely the best homemade ice cream I've ever had. I'm always a little cautious when a recipe looks like it "cheats" by using easy ingredients instead of the traditional "from scratch" method, but this one is just perfect with only 3 ingredients! I wouldn't try any others! We love coffee - especially espresso, so I did make a couple alterations. First, I doubled the recipe. I subbed 1 1/2 cups brewed espresso (about 12 shots) for the strong coffee and added in 1 cup of half and half to make up for the missing coffee and to help balance out the strong espresso flavor. I also added 3 chopped heath candy bars at the end. This made about 2 1/2 quarts when I doubled it and added the half & half. It only took us 3 hrs start to finish to be eating it (it was a little on the soft side, but just perfect for us). Thank you for an amazing recipe! I hope more people try it out.