Prep 40 mins
Cook 40 mins
Directions
If butter is not at room temperature, chop it up first.
Add butter to boiling water.
When butter is dissolved remove from heat.
Add flour and salt.
Beat with a spoon until it looks like putty (about 15 minutes).
Cool, add eggs unbeaten one at a time.
Beat until creamy.
Drop ¾ to 1 tablespoon of cream puff mixture, for each cream puff, onto a greased cookie sheet.
Bake for 10 minutes at 375°.
Reduce oven to 350° and bake for an additional 30 minutes.
Allow to cool.
To Serve: cut off the top and fill with whipped cream or vanilla pudding, then replace the top.
Sift small amount of powdered sugar over each cream puff.
Most Helpful
I just got baked and decided to do some baking. These where real quick and easy. Thanks for sharing the recipe. GO SPURS !!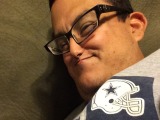 The recipe itself is really good especially if you supstitue 3/4 cup of olive oil for every cup of butter but the second time you bake the dough 30 minutes is a bit to much, 19 or 20 minutes is much better
Great recipe! Taste just like Wisconsin State Fair cream puffs. I filled them with #72356. I used raw butter which added an insanely good butter flavor. Mine didn't get the nice peaks, but my wrists were killing me during the 15 minutes mixing stage, so I don't think I did it very well with all of the frequent breaks. I wonder if I could mix it in my stand mixer next time? Soo good, Mille, THANK YOU!