Easiest Cinnamon Rolls Ever
twissis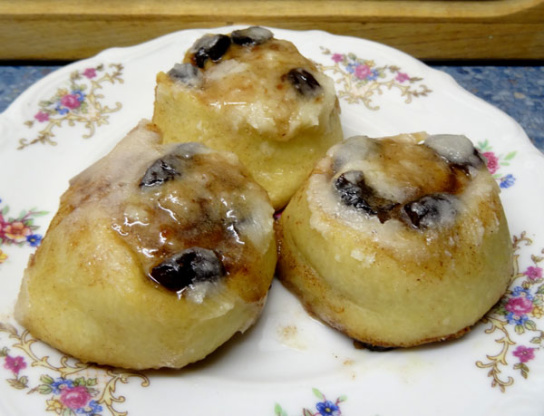 An invention of my own, this shortcut recipe is for when you need cinnamon rolls fast! NOTE: These rolls work well with splenda for baking for an almost (some sugar in pizza crust dough) sugar free option (although not as sticky)!

Made for the What's on the Menu? Tag Game @ FF&F & served as part of dessert for a family brunch, this recipe was a huge success for me. The Icelandic equivalent of cinnamon rolls is "kanil snudur". I love them, but always thought them too much of a challenge for a yeast-phobic baker like myself. The truth was all I really needed was your "twissis-proof", ingredient-friendly & easy-fix recipe to impress my DH & his family. Not that it mattered much, but mine were mini-sized because DH bought the smaller of 2 sizes of pizza dough -- BUT we agreed that will never happen again. I did use the optional raisins, but left out the nuts as DH is diet-restricted for them. I also made http://www.food.com/recipe/white-glaze-icing-for-pastries-cinnamon-rolls-and-danishes-454978 by 2Bleu as a light glaze. I'm very happy I found your recipe.
Preheat oven to 375.
Unroll pizza crust.
Spread evenly with softened butter leaving 1/2 inch unbuttered at one end of long side.
Sprinkle evenly with sugar and cinnamon.
Sprinkle with nuts or raisins (optional).
Roll up dough long ways and pinch unbuttered edge to seal.
Slice into 9 sections. place in greased 9X9 inch pan.
Bake for 15 minutes or until lightly browned and dough is no longer gooey.