Easiest Chicken Rice & Veggie Casserole
Parsley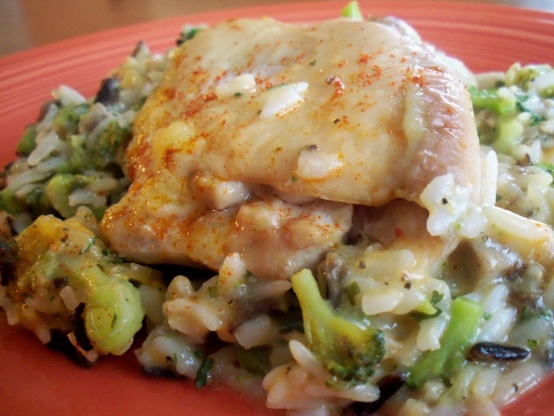 Even though I can't eat chicken, this recipe is so ridiculously easy that sometimes I make it for my husband and daughter when I'm tired. It takes 10 minutes to throw together and has all the important food groups in it! If you use chicken thighs, its SUPER CHEAP too. Feel free to sub whatever "Cream of..." soup you like, we just happen to like mushrooms. Update: I think people were missing the part of the instructions that called for the 2 soup-can-fulls of water so I'm adding it into the recipe. This recipe is intentionally on the bland side, making it kid friendly or open to whatever spices and seasonings you prefer!

Taking advice from the reviewers, I spiced my recipe up a bit. This recipe is pretty neat b/c it encourages you to get creative. First, I cooked the chicken in a skillet with some chopped yellow onion. I seasoned the chicken before cooking with salt, pepper, onion powder, garlic powder, Tony's Cajun Seasoning, paprika, and white pepper (leave out if you do not like things with a kick). I know it sounds like a lot of seasoning, but I am a "Cajun" and like things with flavor. These are to be added to the chicken sparingly. Do not over do or it will be override the chicken.

While chicken was cooking, I mixed 1 c. of white rice w/ 1 c. of brown rice and a little wild rice. I used 1 can cream of chicken and 1 can cream of mushroom. I substituted the 2 cans of water for chicken broth for more flavor. I tossed in frozen broccoli and some canned mushrooms. Mushrooms, YUM! Seasoning for rice mixture: I sprinkled a little Tony's, salt (but not much b/c tony's has salt in it), onion powder, garlic powder, and black pepper.

Add your chicken and onions to the rice mixture and cook. You won't be disappointed. Hint: If you don't have any Tony's, use seasoning salt or Adobo. I figure that those would be good substitutes. ENJOY!
4-6

chicken breasts or 4-6 chicken thighs

2

(850.48 g) can cream of mushroom soup

2

(850.48 g) can water (just use the cream of mushroom soup cans!)

226.79

g frozen mixed vegetables (something with broccoli is yummy)

473.18

ml uncooked rice

2.46-4.92

ml paprika

1.23

ml pepper
In a baking dish, mix together everything except the chicken.
Place chicken on top. Sprinkle with additional paprika and pepper if desired.
Bake uncovered at 375 for 1 hour.