Easiest Chicken & Rice Dish
loof751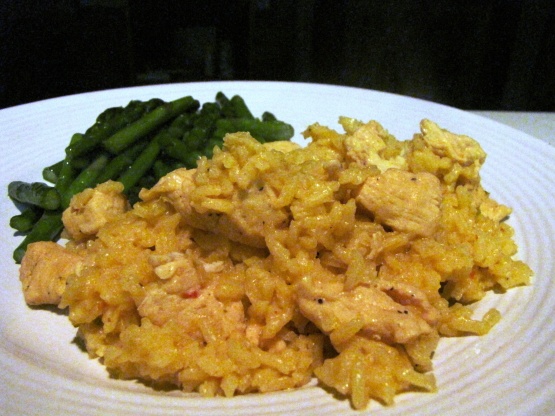 I have been making this simple dish for years. It only contains 2 main ingredients but it is full of flavor.

I took this recipe and used a single chicken breast, and two hind quarters which I trimmed off the bone and took out all the fat and tendons. I seasoned with salt and pepper while I cooked it and then used a 10oz bag of the saffron rice. It was a hit with my wife and the kids wanted more. they are 3 and 2. hardly ever do they want more of anything. the 3 year old wants the leftovers for lunch tomorrow. I will make it again but try different seasonings that go with saffron and see if I can make it really pop.
Remove any excess fat from the chicken then cut into bite sizes pieces.
Sprinkle the chicken with salt & pepper before cooking. Then lightly spray a large pot with cooking spray and cook the chicken until almost done.
Drain any liquid from the chicken. Leave the chicken in the pot & add 3 1/3 cups of water & 2 tablespoons of butter. Bring to a boil then stir in the rice mix. Reduce heat & simmer, covered, for 20 minutes.