Easiest Chicken & Rice Casserole Ever!!!
paulamus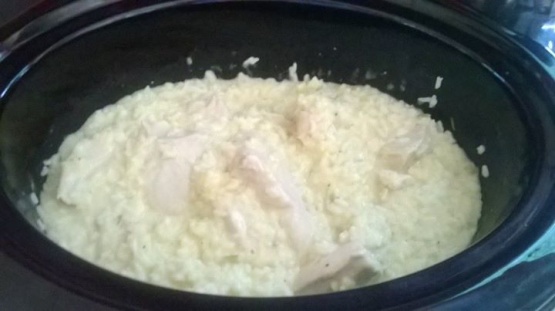 Very much a comfort food dish. Easily prepared by ingredients most of us have on hand in our pantry. So easy to make. You can also easily edit the recipe choosing soups you prefer, this is my favorite combination.

This by far was the best chicken and rice casserole I have ever had. My DH has throat cancer and has limited chewing ability. I cut the 3 chicken breasts in very small pieces. He doesn't like mushrooms so I had a can of cheddar cheese soup that I mixed with the cream of chicken and rice. I didn't add any salt. I did add fresh ground pepper. I omitted the lemon pepper. It was delicious and my DH didn't have any trouble with it. This is going on my regular round as our meals are limited to what he can tolerate. He lost 10 pounds in 5 days but with this I am sure we can build him back up.
1

(10 3/4 ounce) can cream of chicken soup

1

(10 3/4 ounce) can cream of mushroom soup (could substitute cream of celery)

1

(10 3/4 ounce) can 2% low-fat milk, using one of the soup cans to measure (note, this is ONE can total NOT per can of soup as the soup directions may indicate)

3 -4

boneless chicken breasts, chicken tender strips work too

1

cup uncooked instant Minute Rice
lemon pepper (optional)
salt & pepper
Preheat oven to 350 degrees (see baking instructions for alternate methods).
Mix the 2 cans of soup, 1 can milk, and 1 cup of uncooked rice together. Add salt & pepper to taste.
Pour above mixture into a 13x9x2 casserole dish.
Cut the chicken into strips (about the width of a chicken tender/finger).
Push the chicken strips down into the soup & rice mixture in the casserole dish so they are completely emerged.
Sprinkle top with lemon pepper/salt/black pepper.
Bake at 350 degrees 35-40 minutes or until chicken is finished. NOTE that cooking time will vary depending on how you choose to cut up the chicken. If using whole chicken breasts cook at 375 degrees for 45 minutes, or until finished.
You may also choose to make this in a crock pot, if so, cook on low 7-8 hours.
My family loves this recipe and it is SOOOO easy to make, plus I usually have all of these ingredients on hand which makes for a quick meal.
I love the flavors of the rice so much that sometimes I will make it without the chicken as a quick and easy side dish!